Ellie's Fund is a charity fund for YBTC (Yorkshire's Brain Tumour Charity); using a recycling initiative to raise funds for research into brain tumours.
There are three steps for your glove end-users to follow:
STEP 1
The glove user collects together their used, uncontaminated gloves; these must be of a minimum consolidated weight of 8 kilogrammes and a maximum of 20 kilogrammes per shipment.
What does 'uncontaminated gloves' mean?
An uncontaminated glove is a glove that doesn't have a residue of clinical waste or chemicals, including blood, bodily fluids, harsh chemicals and oil.
Water-based paints and hair dyes are generally accepted, it is best to wash the glove before sending.
If in any doubt, please contact recycling@elliesfund.com before commencing Step 1.
STEP 2
The glove user needs to parcel and weigh the gloves and email recycling@elliesfund.com with the correct weight to request a Freepost 'glove label'; once the label is received the parcel should be despatched to the pre-printed address.
STEP 3
The received gloves are checked for contaminants and sent off for recycling. Recycled gloves are made into secondary recycled goods such as benches and children's playgrounds.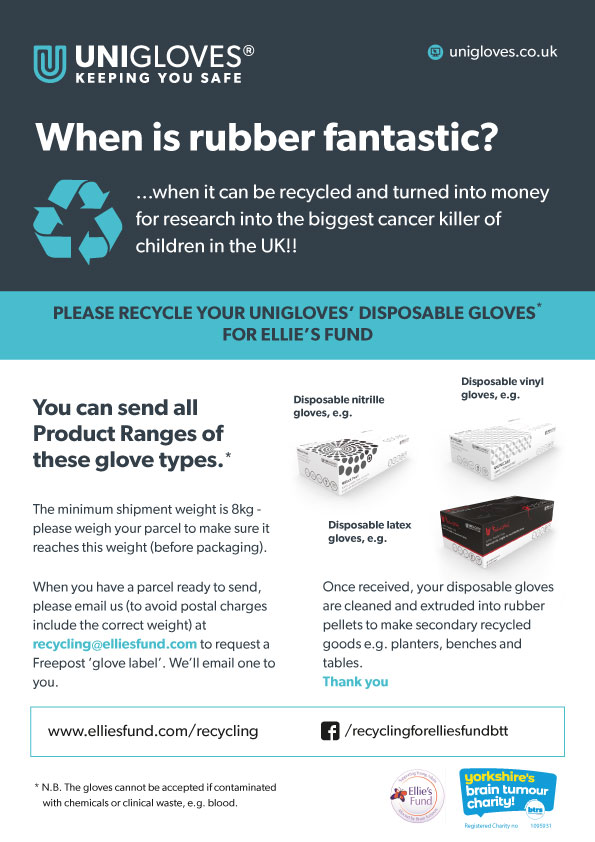 Please pass this image to your customers to make them aware of the scheme, for more support material click here.